Avlyst Shoc DK 20 years Avlyst
Shoc treff i Europa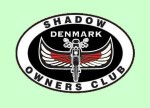 Date:
2021-08-19
00:00
-
2021-08-22
00:00
Dear Shadow Riders and Friends! Shadow Owners Club DK is 20 years old in 2021! We would like to
see you where it all began in 2001 when Shadow Owners Club Sweden and Shadow Motor Club
Holland invited Danish Shadow riders to a gathering at MC Touring Camp Danmark, resulting in
ShocDK being founded.
This will not be a big party as our previous anniversary parties! This will be a gathering where
participants make their own booking (with tent or in cabin) at
https://www.touringcamp.dk/online-booking/ booking opens in January 2021!
All Dates
From

2021-08-19

00:00

to

2021-08-22

00:00